It's a common phenomenon of people that when they are done dressing up, they look towards their feet and start thinking of shoes. But when it comes to sports, the shoe plays a vital role. You can't just have that go with the flowing nature in case of buying the sports shoes; especially specified shoes like hockey skates.
The entire game of hockey depends on the skating quality. If one wants to be an excellent hockey player, he needs to be an excellent skater. Hearing the word skating, the thing that hits the head first is skates. We are here to help you out with the ice hockey skate review.
Things to know about skates: 
Hockey skates are not like normal shoes that anyone can go shopping, try them on, and then buy. It has so many specifications. Those are very important to know before buying.
Here are some points which are required to keep in mind if you want to get the best skates for you. While buying the skates, everyone dreams to be the best hockey skater, but before that, you need to know all the things given below.
Fit: The best option is to try them on. Though it is not always possible. In that case, the other option is sizing.
Sizing: First things first, measure the length of your feet. This way you will get the base size of your skate.
There are different widths of skates. The width sizes are D, E, EE. A few more things matter; like the heel, ankle, forefoot, and instep size.
Pricing: The lesser the price, the softer the skates. Which means less stability and fewer features. The time you spend on ice will help you decide how many features you need. The more features you need, the more you need to spend to get the best hockey skates.
How to size your feet: 
If you don't get the perfect size for you, even the best hockey skate brands won't work. There are basically 2 methods of sizing your skate.
Method 1:
If you are an adult, then your skate size will be 1.5 sizes less than your normal shoe size like your normal shoe size is 38, then your skate size will be 36.5.
If you are in your teenage years, then your skate size will be 1 size less than your normal shoe.
If you are still not so sure about this method, then we got another one for you.
Method 2:
This method is called tracking and measuring. Keep your feet on white paper and trace your feet, holding the pencil straight. Then measure the length and then the width. There's a universal chart of skates' size. Figure out your size, seeing your length and width.
Then there comes the volume fact. It's one of the most important things. For example, you and your friend's length and width are the same. Still, you two will not fit into the same skate. Because of the volume.
The volume matters because of the size of one's instep, forefoot, heel, and ankle. So measure them as well to get the volume of your feet, whether it is narrow, large, or mid.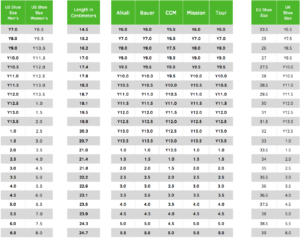 Best Hockey Skates Recommended for Hockey lovers: 
While many companies are screaming out, telling us we have the best hockey skates, we are here with some suggestions about which one is actually the best for you. We got some skate reviews; you choose which one would be the best ice hockey skate for you. Mainly we are presenting the hockey skates of the best hockey skate brands like Bauer and CCM.
1.BAUER SUPREME 2S PRO
This one is considered being the most dynamic skate of hockey and comes with a lot of features. Elite-level skaters will enjoy skating with it. The inner lining provides a dry and comfortable feeling. In a word, it can be named as the friend of your feet.
There's additional surface contact with the blade for stability and support. Blades stay sharp for long for the carbon coating. The skates come with a warranty of 90 days for the boot and 1 year for the holder.
Pros:
lightweight
More lacing options
Reduced negative space inside the boot
Short breaking time
No lace bites
Stiff
Cons:
Bulky tongues.
Expected to be lighter considering the price.
2.BAUER VAPOR 2X PRO
These skates are basically designed for heavy-duty players who need to spend more time on ice. The basic target of these skates is to provide comfort. Your feet won't feel the discomfort of wearing the skates for too long. There's aero foam padding inside for comfort.
The toe cap improves, pushes off, and minimizes the inside foot's movement. It comes in different volumes to ensure the perfect fit. Comes with a 90 days warranty. It has a long-lasting edge life. The best feature is the easily replaceable blade system, so even if the blade is damaged during the game, you will be back on the ice in no time.
Pros:
lightweight
High-performance technology
Low-profile design
Enhanced fit
Cons:
3.CCM JETSPEED FT2
This is the first piece of skates in the JetSpeed family and is one of the best hockey skates. It has no outsole, no stitching, or glue. Which offers your feet a different level of comfort. Your skate will work exactly in the way you move your foot. It has introduced many new technologies to make it highly responsive and comfortable. The design is mainly for elite-level heavy-duty players. It's ideal for an average foot. A tightly secured blade gives an excellent quality of skating.
Pros:
Spring lock technology for the outstanding balance.
Short time blade replacement
Blade with extra height for better performance
Molded tongue for lace bite protection.
Highly responsive.
Cons:
It May not fit in an odd-shaped foot.
4. CCM SUPER TACKS AS1
One of the most innovative, high-tech skates and one of the best hockey skates as well. It's lightweight and gives a one-piece feel. One of the best features is the maximum foot to skate contact, so the energy transforms directly and the skates act responsively.
It has a trimmed look than the previous model, so it's lighter as well. Skaters get required speed support from these. The flex tongue gives flexibility and protection. CCM SUPER TACKS AS1 also provides high ankle protection with collars. Overall, when you put your feet into the skates, you will feel protected and simultaneously comfortable.
Pros:
Better protection
Liner locks the feet even in high moisture conditions
Good moisture release system
Different heel depth dimensions
Cons:
Need to spend more on the custom mold
5. CCM RIBCOR 80K
The basic design is made for fit. The tongue footbed all work for the perfect fit. There's a lot of foam padding for comfort. Ankle pads give a proper wrap around the ankle and provide ultimate comfort. The moisture-wicking technology makes it dry and light. The blade lasts longer after every sharpening.
Pros:
Maximum energy transfer
Less time is required for blade replacement
Comes with different skate options for different foot volume.
Gives a flexible fit with no customization
Higher blade for better turn and movement
Cons:
A little low durability than expected
6.BAUER NEXUS 2N
This is a roomy, high-volume skate. Specially designed for those who need deep heel space and bigger forefoot and instep space. There's thick foam padding all around for ultimate protection. The entire padding works for comfort and fit. There's heel stability to avoid energy loss. The blades are specially designed for extended sharpening life.
Pros:
Pro-grade features
Secondary price range
Ultralight
Stiff
High durability
Cons:
Not for the narrow foot
Takes more time to brake
7.BAUER SUPREME 2S
Aggressive players will really like it. This is a design for year-round elite players.  The blade bites the ice really well. So players can enjoy every moment on the ice. Its ankle padlocks the heel tight for no energy loss. Overall features make it one of the best hockey skates.
Pros:
Pro-grade features with a lower price point
Trigger for quick blade exchange
Allows superior stride action
Cons:
Poor sharpening
Some may find the blade height different, which will take time to adjust
8. BAUER VAPOR 2X
An ideal model for low-volume feet. There are people who struggle to find the perfect fitting skates because of their narrow feet. If that's your scenario, this is exactly what you are looking for.
The entire design will work for improved stride, maybe which you were missing because of a loose fit. There are two types of foam padding all around the skate to provide comfort, even so, a good quality ventilation system is present.
Pros:
Low-profile design
The entire tongue offers comfort and flexibility
Offers quickness
Super light
Cons:
Not for the ones who got wide feet.
9. CCM TACKS 9090
If you are looking for excellent features, high quality, and traditional skates, but don't want to send your wallet to the penalty box, this might be the one you are looking for. It's a very traditional two-piece boot. Quite a classic boot, but the hidden features will make your feet tell I want those. CCM got pro-level features, excellent materials, and affordable prices all together in this model. Literally one of the best hockey skates in the reachable price range.
Pros:
Geometrical stiffness
Got double stitching which gives high durability
High mobility
Smooth collar contouring,
Blade sharpening stays for long
Supports the most aggressive turning
Cons:
Can give a heavy feeling after wearing it for too long
10. CCM JETSPEED FT480
A two-piece boot with top technologies and solid performance features. It's basically a low-volume foot skate. In case you don't want to pay high but still want the highest performance from your skates, this pair of skates is worth your consideration and money.
Pros:
Low-profile fit.
Runner lasts long; a very important feature for regular players
Great heel lock
Excellent energy transfer
Multi-density padding for extra comfort
Cons:
After you buy:
After all the research of ice hockey skate reviews, consideration, and comparing, you finally have your skates on your hand, you are ready to wear those, but wait! There's still something left for you to do. You just can't put your feet right into them and start skating.
If you do so, your feet will hurt like hell and you will just try to pull them out of your feet as soon as possible. You need to break your skate. The easiest way to break it is to bake it. Put them in a customized oven with a designed ( according to your foot shape) footbed in it. Once baked, you shouldn't feel the pain anymore. If you're still not comfortable, some hammering will do the job.
The legs are considered being the most important body part of every moving species. It's really important to take care of our feet, on which we stand. Shoes play a vital role in our life while buying them, we pay extra attention to comfort. Now, shoes for a high-paced game like hockey are really important. It needs to be flexible, comfortable, and shouldn't hurt your feet at all.
Here, money is not important, the protection and comfort of your feet are important. Cause if you are buying low-quality skates just because it's cheap, which can lead you towards an injury; the quality of your performance can go down for a lifetime. So first take care of your body part, then think of the money. Because if you remain fit enough, your bank balance will also be fit soon.
References
Hockey Skates: https://en.wikipedia.org/wiki/Ice_skate#Types_of_ice_skates
History of Hockey: https://www.britannica.com/sports/ice-hockey#ref29689
Color of Hockey: https://www.nhl.com/news/color-of-hockey-penguins-create-willie-oree-academy-for-black-youths/
Hockey Skates Size Chart: https://www.scheels.com/size-chart/hockey-skates-size-chart.html